How to convert EDB to PST for exporting Exchange database to PST
There are various reasons to convert EDB to PST and you can implement the process of EDB file to PST recovery applying different as I am going to discuss below. However, before that let me give you brief information about Exchange Server and Outlook.
What is Exchange Server?
Exchange Server is a messaging server developed by Microsoft used with Outlook. It keeps the entire sent and received data of Outlook as a backup. It is a program hosted on-premise on a local server. The server store the data in the EDB file format. Using this, you can also apply some permissions and security features to make a secure environment and increase the productivity of the organization.
What is Outlook?
The outlook is part of the Microsoft Office Suite. An email management program used to manage emails sent and received. It also manages contacts, calendar, tasks, notes, etc.
Reasons to extract mailbox from EDB to PST
Here are the few reasons to extract data from Exchange EDB file to PST format.
To keep backup for future needs.
To prevent loss from EDB corruption.
To reduce the data load of the Exchange Server.
To empty some space from the Microsoft Exchange Server.
How to Export EDB to PST?
Below are the significant methods that allow successful migration of Exchange EDB to Outlook file format.
Using Exchange Management Shell
Using the Exchange Admin portal
With the help of ExMerge Application
Through Import and Export Wizard
EDB to PST converter
Here, I am going to discuss all the above methods step by step to give you a clear idea of the process to convert EDB file to PST.
1) EDB Export to PST using Exchange Management Shell
Exchange Management Shell is just as a command prompt used with Microsoft Exchange to implement the process through the execution of commands. Before starting with this process, it is required to create a new folder and assign the read/write sharing permission of that folder.
Step 1: Launch the EMS and get the list of all the mailboxes. Run the below command to get the mailboxes.
Get-MailboxStatistics –Database <DatabaseName>
Step 2: Now, execute the below command for the process of migrating EDB file into PST file format.
New-MailboxExportRequest -Mailbox <MailboxName> -FilePath \\ExchangeBackup\PST\MailboxName.PST
Step 3: Check the status of the mailbox export request.
Get-MailboxExportRequest
Step 4: After completing the export process, cancel the export request.
Remove-MailboxExportRequest -Identity <Name of the export request>
Note:
For Exchange Server 2007, Use Export-Mailbox
For Exchange Server 2010, Use ExportMailboxRequests
For Exchange Server 2013, Use Export-MailboxExportRequest
2) Using the Exchange Admin Centre
Step 1: Go to the Microsoft Exchange Admin Centre. Under the Permissions section of Admin roles, select the Recipient Management role.
Step 2: Click on the plus (+) sign and a new window will appear. Under role option again hit on the plus symbol a new pop-up will appear. Add the Mailbox Import Export role and OK. You will that this role will assign in Recipient Management.
Step 3: Now, go to the recipient section and under mailboxes option, select the mailboxes that you want to migrate. Then click on (…) and choose "export to a PST file".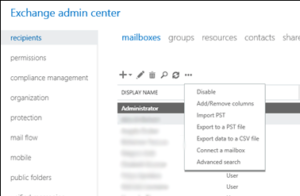 Step 4: Browse the mailbox to export and click, which you want to export and click Next.
Step 5: Provide the path of the shared folder where you will save the converter Outlook PST file and hit on next.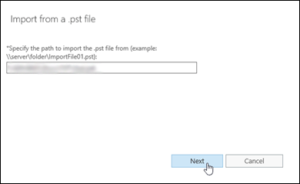 Step 6: Select the mailbox that will get an email after the successful migration of EDB into PST and hit on Finish.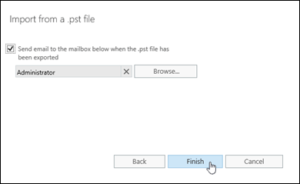 Note: In Exchange Server 2013 and 2016, you need to use both Management Shell and the Exchange Admin Centre to convert ED to PST. In these two versions of Exchange Server, if you try to move EDB to PST using Admin Centre first you need to assign the Import Export role using the below commands through Windows PowerShell and then start the process with Admin GUI interface.
New-ManagementRoleAssignment –Role "Mailbox Import Export" –User "user name"
3) Using EDB to PST Free Tool: ExMerge Application.
This method allows using ExMerge application for EDB to PST conversion in Exchange 2000, 2003, and 2007 only.
Step 1: Download, Install and configure ExMerge application. Open it and log in to Exchange Server then click Next.
Step 2: Choose the required option from the given two options. Here, choose Extract or Import (Two Step Procedure)–> Next.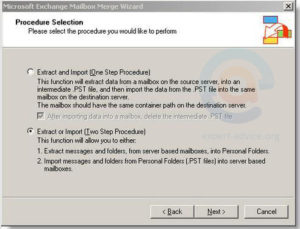 Step 3: A new window appears where you need to choose the first option Extract data from an Exchange Server Mailbox–> Next.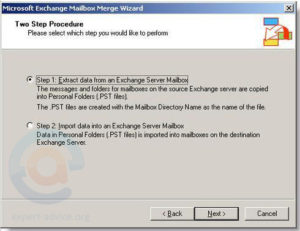 Step 4: Under the Import procedure option, choose "Archive data to target store"à OK.
Step 5: Under Message Details, entre all the information neededà OK.
Step 6: Select the mailbox from the given list of mailboxes and click on the Next button.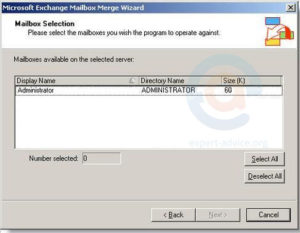 Step 7: Choose the desired location where you want to save the PST files and confirm the location by clicking on the Change Folder button. Click Next, it will display the Process status.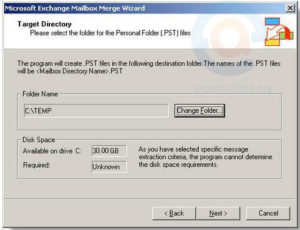 Step 8: Once the process completed, click on Finish.
4) Microsoft Import and Export Wizard
This is a fourth useful way to export exchange database to pst EDB to PST free of cost. You can implement this method when you are connected with the Exchange Server.
Open Outlook and go to the File menuà Open & Export–> Import/Export.
An import and Export wizard will appear, choose Import from another program or file.
Again, a new window will open, select the Outlook data file (.pst) option–> Next.
Browse the file, replace duplicates and hit the Next button.
Select the folder that you wish to import including the sub-folder and Finish.
5) EDB to PST Converter
The last and best solution is third-party software as it offers a secure and quick process to extract email from EDB file to PST. The EDB to PST conversion tool also provides various crucial features with several migration options from EDB to other file formats.
Conclusion: Through this blog, I explained how to convert EDB to PST using all the possible methods with its detailed steps.